Investment
Our aim is to be a leading investment company in the Kingdom and generate sustainable returns through sound management of our investment portfolio.
To effectively manage risks, the Company maintains a diversified business portfolio spread across various industries:
Zawaya Real Estate Company

Investments in subsidiaries

The company was founded in 2010 with a capital of SR481million, it's specialized in constructing retail compounds, residential units and investing them by selling or renting.

The company owns properties portfolio distributed in Riyadh, Al-Kharj, and Yanbu. The most important projects are Al-Hudaithy mall – Cordoba plaza – Al-Shefaa plaza – Al-Kharj hospital project, in addition to constructing villas compounds in Al-Kharj named Narges Villas and Orkeed Villas.

Bilda Specialized
Commercial Centers

Investments in local companies

The company was founded in 2008 with a total capital of SR90 million, it's specialized in constructing the commercial centers specialized in building materials.

"Bilda Mall" is the company's most important project which stands on 80,981.91 square meters with leasing area of 48,047 square meters. The project is a retail center that includes leased stores to companies specialized in building materials.

Akwaan property Company

Investments in local companies

The company was founded in 2007 with a capital of SR 750 million including paid-in capital worth 25% which is equivalent to 187.5 million.

The company is specialized in real estate investments by buying lands and plans then developing them to be sold afterward.

Mulkia Investment

Investments in local companies

The company is a closed joint stock company with a capital worth SR150 million including 50% paid-in capital which is equivalent to 75 million SAR and 15 million shares with par value of 10 SAR per share.

The company's basic activity is providing financial and consulting services in addition to assets management of real estate funds, shares portfolios, and private equity funds. Moreover, the company provides consulting, ranking, and saving securities services. It works according to laws and regulations of the Capital Market Authority.

Investments in domestic
shares portfolios

The company invests in several Saudi companies with profitable annual revenues and good future indicators.

The company is considered one of the principal owners of SASCO, the board of directors is headed by Mr. Ibrahim Bin Mohamed El-Hudaithi, the managing director is Mr. Sultan Bin Mohamed EL-Hudaithi, and they are all members in Nahaz Investment board. Nahaz owned 10.5% of SASCO shares with total shares number of 4,744,176 by the end of 2013, but now Nahaz owns 7% of SASCO shares with total shares number of 6,348,046.

Lube Saudi lubrication oils
(Jadwa Investment)

Investments in local companies

Investment in the fund started in 15/1/2008, it is a joint fund between Aramco, Luberef, and Jadwa.

The number of the fund units is 6430, Nahaz quota is 100 units with a percentage of 1.56%. The price of each unit is of 216,500 SAR. This makes the total investments value of the company 21,650,000 SAR, in addition to the offering fees which is 433,000 SAR.
Investments in the Saudi Stock Market
Nahaz Investment adopts a proactive approach in dealing with our investments in the Saudi stock market – the largest in the region. In line with the Saudi stock market's enormous potential for growth, our aim is to achieve consistent profitability through strict adherence to the highest standards of excellence and transparency. We own a diversified portfolio of shares in several large-cap companies in Saudi Arabia.
Subsidiaries
The success of Nahaz Investment would not have been possible if not for the contribution of our distinguished strategic partners. We currently own a distinctive group of companies in various sectors such as agriculture, hospitality, and real estate investment and development, namely: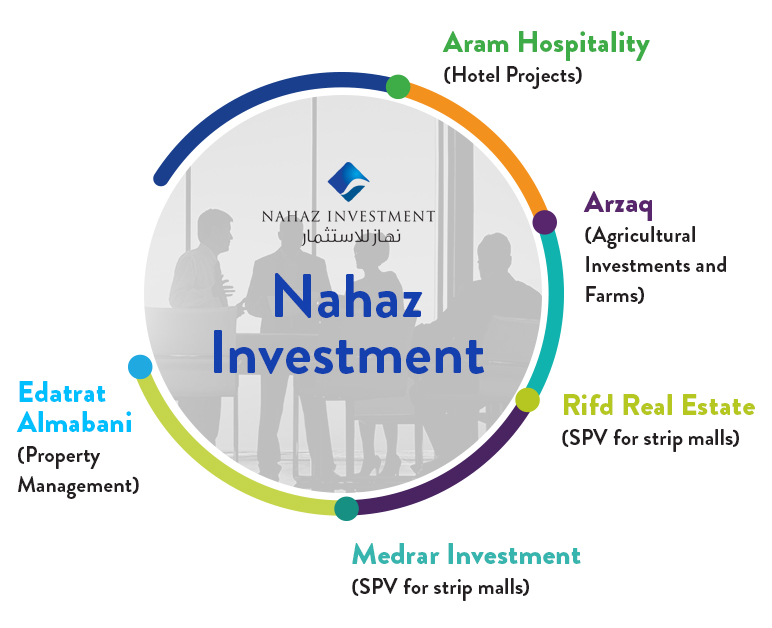 Company's Objectives
We, at Nahaz Investment, are fully aware of the importance of constantly upgrading the level of our expertise. With a forward-looking attitude and a strong determination to do the right thing, we aspire to make our company a model of excellence and innovation in the Kingdom.
Over the last few years, we have managed to complete a wide range of projects in the residential, commercial, logistics, and hospitality segments. We have also accomplished agricultural reclamations and several investment transactions. These accomplishments put us in a very strong financial and strategic position to initiate new projects in various sectors, and provide us with the necessary skills to team up with renowned regional and international companies. To date, we have ongoing development projects in the residential, commercial, and hospitality sectors with a strong potential to attract regional and international partners.
We aim to maintain our profitability through extensive analysis of market developments, constant monitoring of investment opportunities in the domestic, regional and global arenas, streamlining of our processes through automation, and the employment of a professional staff. Guided by the Saudi Vision 2030, we shall continue to be driven by great ambition, solid determination, and a firm commitment to excellence in everything that we do.
The story of Nahaz is only the beginning. What sets us apart from our competitors is our spirit of commitment to excellence, in addition to the right ingredients that should allow us to reach greater heights in the years to come. As we write a new chapter of Nahaz Investment, we look forward to your support and participation.